The Australian summer means many things to many people. But there are some quintessential summer activities that are universally loved, such as going to the beach, backyard cricket and taking advantage of the great outdoors.
In recent times another activity has burst onto the scene, attracting a younger audience to what has traditionally been a game played by retirees. Thanks to movies like Crackerjack that told us these places were selling beers at 1973 prices, lawn bowls has become as much a part of the Australian summer as anything else. Gathering up a group of friends and heading to the local bowls club for an afternoon of barefoot bowls is as popular now as heading to the pub for a Sunday session or enjoying a lunchtime bar-b-cue that extends well into the night.
Lawn bowl clubs have responded to the surge in popularity by opening up their doors to the younger generations and developing bar-b-cue and entertainment areas to cater for their needs. Even businesses have got in on the act by organising their Christmas parties and corporate events at the relaxing surrounds of the local bowls club. It's a match made in heaven and has been a resounding success.
What you may not know is that there are several other games like lawn bowls. Given the way the youth of Australia have embraced the idea of rolling lopsided balls down a green to a tiny white ball about 25 metres away, here are five games like lawn bowls you should try this summer as well.
5 Games Like Lawn Bowls
BOCCE

Born out of the ancient games of the Roman Empire and sporting close links to British bowls and the French version pétanque, bocce was developed into its present incarnation in Italy. It's played wherever there are Italians, which is all through Europe and right across Australia.
Bocce is played on dirt or asphalt rectangular courts around 27m long and 3-4m wide. Similar to lawn bowls, the idea is to get your bocce balls closest to the jack (biccino). The catch is that you don't roll them along the ground. Instead, you throw the metallic or plastic balls in an underarm fashion with the aim of getting them as close to the biccino as possible. Games can be played in pairs or between two teams of two, three or four and each individual or team scores one point for every ball closer to the boccino than the closest ball of the opposition. Depending on the rules you're playing by, the first to a score between seven and 13 wins.
PÉTANQUE

The game of pétanque as it is played today originated in La Ciotat, near Marseille in France, between 1907 and 1910. It derives its name from the French term pés tancats, which when translated to English means 'feet planted' or 'feet fixed'. A local café owner modified the game of jeu provençal to accommodate a man with rheumatism. He was unable to run and throw the ball, so the new game required players to stand still while throwing and the length of the pitch was cut in half. It didn't take long for the game to spread right around the country, quickly becoming the most common game involving rolling or throwing balls towards a target in France.
Similar to Bocce, players throw hollow metal balls towards a target – in this case, a small wooden ball called a cochennet (French for "piglet"). Players start with their feet inside a circle and must keep them on the ground when they throw. Singles and pairs have three balls each while players in teams of three only have two balls each. Just like Bocce, once all balls have been thrown, teams will get one point for each ball closer to the cochennet than the closest ball of the opposition. So a team could get six points in one go and the team that gets to 13 first wins.
For more information, head to the official Petanque Federation Australia website.
BASQUE BOWLS
For such a small region along the north coast of Spain, Basque has an extraordinary amount of variations to its traditional bowls game. Basque bowls is known by a number of different names including pirlak, pirleak, bolak and botxak and is played on an arena called bolatoki. Using balls featuring finger and hand holes, players (known as bolari) bowl balls underarm (think ten pin bowling) towards a group of pins known as bolo, pirla, birla, txirla, esku, zilla, erdiko or guena. Confused yet?
The many varieties of the game are predominantly associated with the area of Basque in which the game is being played and centre around how many pins are used, how they're arranged and the shape of the bolatokia. The bolatokia can be an open playing area, under a low roof with open sides or within a colonnaded hallway.
Many of the variations aren't commonly played today, being limited to exhibition games at community events and celebrations. Competitions are still held today but it is a very localised sport.
BOCCIA
Boccia is almost identical to Bocce in terms of rules and objectives but is contested by athletes with severe physical disabilities that affect their motor skills. Originally played by people with cerebral palsy, Boccia is now played in over 50 countries by players with a wide range of motor skill disabilities. It has become so popular globally that in 1984 it became a Paralympic sport. To qualify as a competitor at a national and international level, players must be confined to a wheelchair as a result of cerebral palsy or another condition with similar effects such as muscular dystrophy or traumatic brain injuries.
There are slight variations to traditional Bocce due to the physical disabilities of the participants. The game is played as individuals, in pairs or in teams of three and the balls can be moved with hands, feet, or – depending on the severity of the participant's disability – a device to assist them, such as a ramp. The balls are made from leather, available in various degrees of softness and hardness and are slightly larger than a tennis ball. The court is just less than half the length of a Bocce court but almost twice as wide and the surface is flat and smooth. There are six rectangular throwing boxes at one end of the court and the competitors must stay in their designated box during play. There is a v-shaped line over which the jack must be thrown at the start for each end to be valid.
To get involved in Boccia, head to the official Boccia Australia website.
SHORT MAT BOWLS
Originating from lawn bowls, short mat bowls is an indoor sport where players roll a heavy ball along a flat surface. The goal is for individuals to get their balls as close to the jack as possible, with individuals scoring a point for each ball closer to the jack than their opponent's closest ball.
The game came to life when two South Africans living in Wales were unable to play lawn bowls due to the consistently inclement weather. They started playing a version of lawn bowls on a strip of carpet in a church hall in order to get their lawn bowl fix. They moved to Northern Ireland and took the game with them, where rules and regulations were established and regular games were scheduled in the area. Irish expats took the game with them to England and in 1984 the English Short Mat Bowling Association was born.
The game is played in pretty much the same way that traditional lawn bowls is played, with the advantage being that short mat bowling can be played at any time of the year regardless of the weather. Mats can be rolled up and stored or transported from venue to venue, so games can be played anywhere there is space enough for the mat. There is one significant twist: a block is positioned in the middle of the rink mat to prevent players from forcefully bowling a ball directly down the middle to knock out the jack and/or opponent's balls. Bowls that touch the block are declared 'dead' and removed from the mat.
Over to you…
With blue skies and sunshine set to dominate the sky for the next few months at least, there has never been a better time to get outside and have a go at one of these games. If you'd like to enjoy a game of barefoot lawn bowls, Lantern Club has you covered.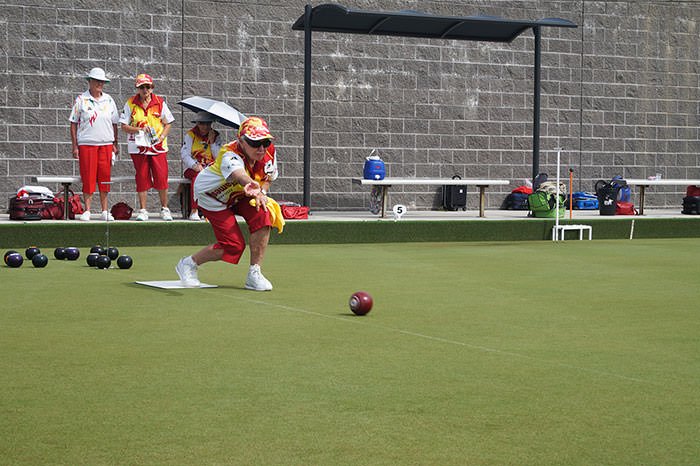 The Roselands Flames Bowling Club is the place to go for an afternoon of lawn bowls, either with friends and family or with work colleagues for your Christmas party or other corporate events. You'll be supplied with enough bowls for the whole group and some coaching if you'd also like to learn a skill or two.
For more information, head to the Lantern Club barefoot bowls information page.

© Lantern Club, Roselands